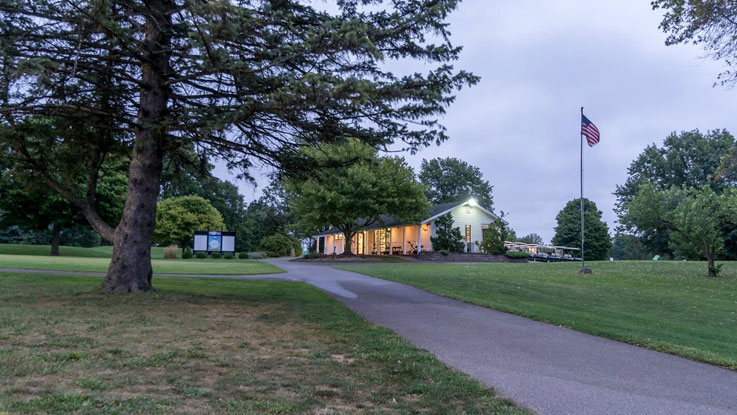 The Shoaff family donated 185 acres of land to the Fort Wayne Parks and Recreation Department in 1955. Initially ninety-five acres became Shoaff Park, while the remaining acreage would eventually be dedicated to the Shoaff Golf Course. The history of the opening is unclear. Some believed that the park opened in1958 while others believed there was a race between the Shoaff and the McMillen families to see who could open their course first in 1963. Despite its uncertain history the course remains virtually unchanged from its original design. In 1996 a full service driving range was built complete with a pitching and chipping area and a sand bunker was added in 2003. Recently a new maintenance building has been installed.
Only five men have ever retained the title of golf professional in the history of Shoaff Golf: Ralph Vetter, Jim Fullerton, Rick Hemsoth, Chris Jones and Gary Whitacre. Ralph saw very early on the value of working with the youth of your facility. He was one of the first to have a true Junior Program and was involved in the beginnings of the Fort Wayne Junior tour. Rick came in 1995 bringing a strong reputation as a teacher and an advocate of junior golfers. Chris Jones was the Manager of Golf Operations from 2019-2020. Gary Whitacre is the current PGA, Golf Manager.
Like the professional side there have been only four superintendents: Jim Coleman, Mark Sadler, Dean Gibson, and Bryan Keister. Jim was at Shoaff during the construction of the course and continued on as the superintendent in the first years of Shoaff Golf. Mark replaced Jim after his retirement in 1983. Dean, brought the golf facility to the beautiful condition it is in today. Currently Bryan Keister is the Superintendent at Shoaff, McMillen and Foster Golf Courses.